An Interview with E.J. Copperman
by E.J. Copperman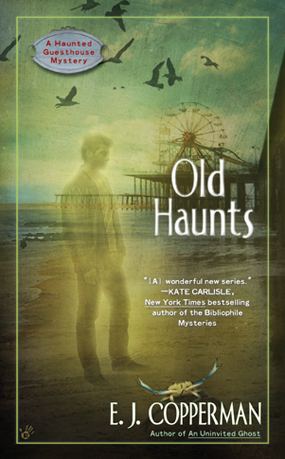 So. E.J. Tell us what kind of books you write.
I'm so glad you asked.
Thank you.
The Haunted Guesthouse mystery series focuses on Alison Kerby, divorced mom of 10-year-old Melissa, who has moved back to her Jersey Shore hometown of Harbor Haven (which I completely made up). She bought herself a huge Victorian to renovate and eventually open as a guesthouse, but she wasn't counting on a problem. Two problems. Their names are Paul and Maxie, and they're dead. But they're still in the Victorian, and they're, at least technically, haunting the place.
Oh, my.
You haven't read the books, have you?
I do a lot of interviews...
Well, suffice it to say that through the first book in the series, NIGHT OF THE LIVING DEED and the second, AN UNINVITED GHOST, Alison and the ghosts have worked out an arrangement: Because some tour groups actually seek out a paranormal experience, the ghosts provide "spook shows" for the guests to help keep the place booked--it gives Alison a reputation as the "Ghost Lady," but she's handling it. In return, however, she has to help Paul, who was a private detective in life, investigate the occasional crime. Turns out the afterlife is, among other things, boring, and he needs a hobby.
So what is OLD HAUNTS about?
In OLD HAUNTS, everybody in the house (except Melissa, who is, after all, 10) is dealing with a romantic entanglement that ended, shall we say, badly. Paul has asked Alison to find the woman to whom he was going to propose marriage just before he died, just to see if she's adjusted to his being gone. Maxie is stunned to hear that the man she married (albeit for only four days) has been found murdered under the beach in Seaside Heights, and wants Alison to investigate. And Alison is dealing with the worst problem of all, because her ex-husband, whom she calls The Swine, has just shown up on her doorstep after two years in California, and he has an agenda he's not sharing. It should be a fun week.
Indeed. What's your style of writing?
Chaotic. I never know what's coming next. Well, I sort of know what's coming next: I have a few scenes in my head that I know will end up in the book. The connective tissue happens as I'm writing, which I do every day, a minimum of 1,000 words.
Every day?
Yup. Weekends, holidays, every single day. Except when I'm not specifically working on something. Then it's all going on in my tortured brain until I'm ready to type the words.
Ooh, TMI. People say there's a lot of humor in your books.
Aren't they sweet.
Is that intentional?
If you have to ask... yes, it's intentional. These books are, to me, sort of a throwback to the type of ghost story that something like Topper used to be, both the movies and the TV series, which ran for the first time in the late 1950s and then in reruns through everybody's childhood. It's about ghosts who aren't necessarily scary, but can be seriously inconvenient.
How do you write ghosts?
You write people. Some of them just happen to have died and not taken the hint.
You have a contest on your web site, www.ejcopperman.com What are the rules?
It's very simple. Anyone can enter--all they have to do is email me at ejcopperman [AT] gmail [DOT] com and tell me (along with their email and snail mail addresses) who their favorite character in the Haunted Guesthouse mystery series might be. Those who haven't read the books (and here's your chance!) can just say THE HOUSE. Prizes are one 16-oz. OLD HAUNTS travel mug and two OLD HAUNTS t-shirts. Deadline is Leap Day.
What are you working on now?
That would be telling.
Yes, it would. What do you think we interviewers are for?
Publicity?
Fine, be that way. Just as an aside, what does "E.J." stand for?
Almost anything.
Thanks for the answers.
It's been a slice.
E.J. Copperman is the New Jersey-based author of the Haunted Guesthouse mystery series, beginning with NIGHT OF THE LIVING DEED and AN UNINVITED GHOST, and now continuing with OLD HAUNTS. E.J. says to tell you that you don't have to read them in order.